"King Of Extreme"
David Campbell's
Biography
---
| Home | Bio | Resume | Schedule | Book | Media | Links | E-Mail |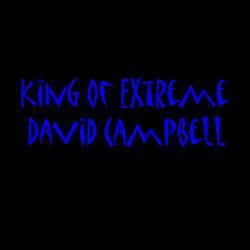 Name: "King Of Extreme" David Campbell
Height: 5'6"
Weight: 200 lbs
Hometown: Dallas Texas (Currently reside in Cumby Texas)
Finisher: Royal Treatment (Single Arm DDT aka Downward Spiral)
Turned Backyard/Pro: All my life mostly/ Since 2001
Titles Hold: NTW Hardcore Championship
I'm a promoter and wrestler mainly because the number of wrestlers in this area of Texas is few. I'm probably the littlest and fattest guy in our federation. In spite of this that did not stop me from living my dream. In 2001 I had been hardcore wrestling a long time, but when I met up the this few guys who dreamed of a wrestling career I put myself on the map as far as hardcore wrestling in Cumby Texas goes. I started out as a backyard wrestler and still am at times. That's what my federation Cumby Championship Wrestling (CCW) and Texas Extreme Wrestling (TEW) was doing at the time. We were just wrestling with one on one matches and tag matches. It was great but I wanted to inflict pain. I told my wrestlers about hardcore wrestling and they had never tried it. So we went shopping and bought some weapons. Lets just say that day I earned the name "King Of Extreme".
I had ever heard of backyard wrestling until the late 90's. However I have done it for as long as I can remember with my brother. We were the first hardcore wrestlers in Cumby Texas when we used a rusted tray and a pop corn can. We went from there to sheet rock to tables. Our match with the table was taped and we sent it to this guy to put it online for us, but we have not seen the tape or the online footage.
I won the NTW Hardcore title in a tournament with my brother I hit him with my finisher at the time a Flowing DDT. I'm undefeated and still hold the title since 2002.
This Page is brought to you by Tripod.com, and FrontPage Express
This Page was created 2/21/01
©2003 DLC Designs