The Official Web site Of
"King Of Extreme"
David Campbell
---
| Home | Bio | Resume | Schedule | Book | Media | Store | Links | E-Mail |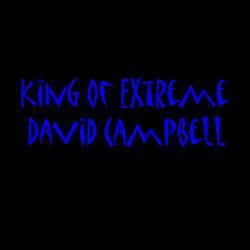 News
Updated Aug 1, 2007
It seems that this web site has a problem with me. They seem to think I'm some glorified backyard wrestler. Now you see there are three popular web sites in the world today. Well four if you count goggle with has been our for a while. However the top three sites over the internet today are MySpace, YouTube and Wikipedia. Now google and yahoo have us on their searches so I ain't got no beef with them. MySpace has but the NTW and my profile so nothing against them. YouTube well we don't have anything video wise for them. Wikipedia however well they deleted the NTW and my page saying we are nothing but a backyard fed. Now I don't know what the problem is but guys you don't want me on your web site just tell me. In fact I challenge the deletor of my page to a match if you beat me then I don't say another word about putting us on your web site. if I win and believe me I will then you put both my and the NTW profiles back on the site with no questions.
Listen up folks I received an email the other day saying that someone is calling themselves "King Of Extreme". Now I didn't reply, because I wanted to let my fans know what is going on. Now everyone knows I have moved. As soon as I settle down I'll have that match. Now if the challenger is listening I accept your challenge. A match for the title "King Of Extreme". Let it be known to the entire wrestling world...

"King Of Extreme"
VS
"King Of Xtreme"
Link member of
www.pro-wrestling.com Search engine!
This Page is brought to you by Tripod.com, and Front Page Express
This Page was created 2/21/01
©2003 DLC Designs